Davis EyeCare Service Agreement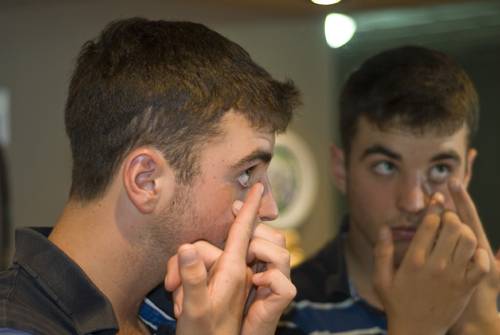 For all new contact lens fittings you will have an initial Service Agreement for the first 90 days of your contact lens wear. Exception: Disposable (type A) contact lenses will have a 30 day service plan.
This agreement provides for the following services which are necessary for total contact lens care during the fitting period:
Initial Lens dispensing visit All Lens Adjustments
Initial Supplies All Lens Changes
All Office Visits All Prescription Changes within 90 days
When additional lenses are needed due to damage or loss, the following fee schedule will prevail. This includes evaluation of lens fit, visual acuity, physiological function and the services needed after lens replacement. Disposable lenses (type A) will be replaced at no charge except cosmetic lenses (limit 5 lenses per year).
Lens Type Charge With Service Agreement Usual Lens Charge
Type A No Charge $10.00
Type B $75.00 $100.00
Type C $100.00 $125.00
Type D $125.00 $175.00
Type E $150.00 $200.00
Type F $175.00 $225.00
Type G $200.00 $250.00
Type H $250.00 $ 300.00
Lens Polishing and Reconditioning*: (per lens) $20.00
Lens Modification: (per lens) $20.00
Office Visit: $85.00*
There will not be any limit to the number of exchanges with reusable lenses during the Service Agreement period
After our 90 day Service Agreement expires, (Exception: Disposable type contact lens, 30 day Service Agreement plan), you will be given the option of continuing this agreement for $75.00 per year, or $125.00 per year. The $125.00 Service Agreement is offered to patients who require extended services, such as OrthoKeratology, Special Design Lenses, and patients requiring assistance on a weekly or monthly basis on replacing their lenses.
Your yearly Service Agreement provided by Davis EyeCare Associates provides contact lens evaluations, office visits, polishing and refinishing, adjustments and the services which are necessary to keep your eyes and lenses in good condition all year without charge. This excludes: REFRACTION FOR EYEGLASSES, ANNUAL CONTACT LENS EYE HEALTH EXAMINATIONS, TRAUMA CASES, PRESCRIPTION CHANGES AND MEDICAL TREATMENT OR SURGERY.
This Service Agreement also permits you to obtain additional needed lenses at a greatly reduced cost.
The complete responsibility to renew the Service Agreement must remain with the patient.
Continuous research results in new lens materials and techniques. Whenever refitting of a new lens type is indicated from an evaluation or routine examination, patients will be given the opportunity to try such designs to assure optimal lens wear at a considerable savings.
DISPENSING SERVICE FOR REPLACEMENT LENSES
Our dispensing service is designed to help save you time and the need for a return visit, by providing a tailored office visit. Your replacement lens will be checked for comfort, fit and vision. If any modification of the lens is required, our laboratory will provide the necessary adjustment, which will eliminate the necessity of a return visit.
LOANER LENSES
Lost and broken lenses should not create a panic. In the event of a lost or damaged lens, we will supply an immediate loaner replacement lens for uninterrupted lens wear for patient with the service agreement.
*OFFICE VISIT
In general, a contact lens progress check examines those areas of the eye which are external in nature and related to the wearing of a contact lens, specifically, vision, comfort, and health of the front surface of the eye (cornea). We recommend this to be done in four month intervals. This is provided at no charge with a current Service Agreement. Otherwise the charge is the responsibility of the patient.
*RECONDITIONING/POLISHING/ADJUSTMENT VISIT
This convenient service is available for patients who wear rigid gas permeable, hybrid or soft contact lenses. When patients notice a collection of debris on their lenses and are not in need of a contact lens office visit, but do require professional adjusting or refinishing of their lenses, this is provided at no charge with a current Service Agreement. We recommend this to be done in 4 month intervals.
We hope this information will help you to choose whether or not a Service Agreement will be a value to your contact wearing experience. We do feel that the Service Agreement will show you what we feel is important to our patient's satisfaction…Service.